The silent garden
Aiona Garden of Health
Enjoy  peace in Aiona
Immerse in nature
Step into our magical garden.
Mango trees, coconut palms and native trees provide a cooling shade.
Enjoy to stay directly on seaside.
Be with the magic of the sea sound,
the power of the earth, the play of the air
and the light of the sun.
We invite you to relax, find contemplation and inner peace
A relaxing stay in a private atmosphere. 
Enjoy your stay with us!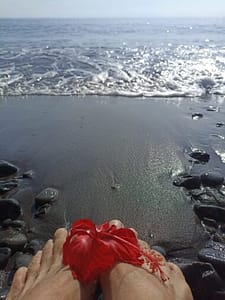 Our garden has grown over the last 30 years. We live here in the north-east of Bali in a very dry area and to have such a wonderful garden is something very precious. There are many medicinal plants and trees, Neem-, Teakwood Tree and different animals, birds, unicorns, crabs, toads, lizards and our dogs.
Enjoy Aiona Garden a special atmosphere awaits you!
Various cozy places to sit or to lie down
are waiting to be discovered by you to immerse in this special experience of nature.
Traditional Balinese Bamboo Bales with deckchairs and 
hammocks to relax and various options for sitting on cushions, chairs or benches – just the way you like it.
Enjoy a tasty meal
or one of our vital drinks from our restaurant.